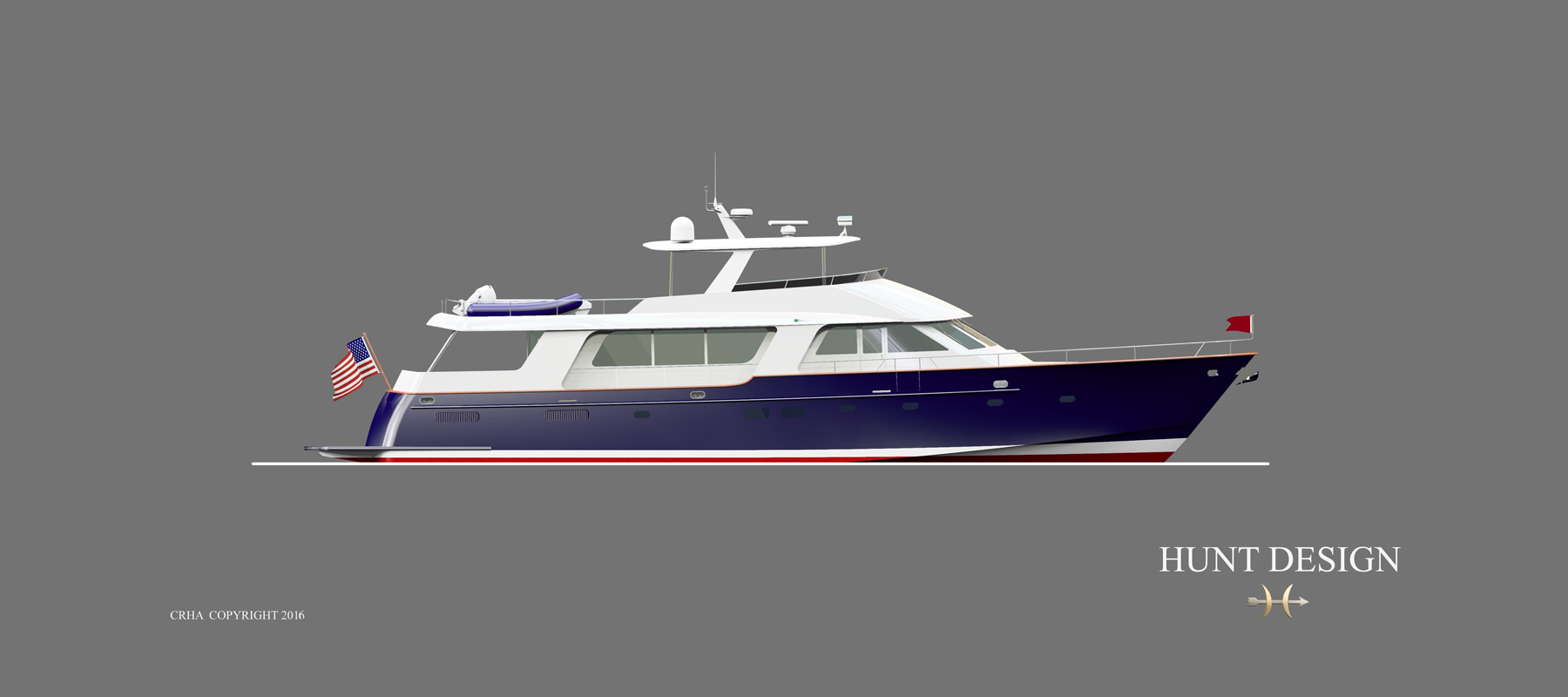 Designed by C. Raymond Hunt Associates, this yacht is the result of a request for an able, fast vessel capable of extended cruising in comfort and safety. It must be reliable, comfortable, self-sufficient and quiet, and will therefore carry the most modern and efficient equipment available and be built to the highest yacht standards. Machinery and equipment shall be installed according to the rules and regulations of the United States Coast Guard, the American Boat and Yacht Council, and the National Fire Protection Association. All safety equipment shall be U.S. Coast Guard approved.
This is a preliminary specification. As such, the list of equipment is general and descriptive in nature, and is neither comprehensive nor always specific. It is nonetheless intended to describe a complete, well-found and operable vessel. Where a particular brand of equipment is specified it is to indicate a desired quality and type. Substitutions of equal grade are permissible.
Please contact us for pricing information.
Specifications
| | | |
| --- | --- | --- |
| Length, overall | 82 -2" | 26.90 M |
| Length, on datum waterline | 72'-7" | 23.68 M |
| Beam (excl. guards) | 21'-0" | 6.10 M |
| Draft, hull (vs. datum WL) | 4'-3" | 1.25 M |
| Draft, props (vs. datum WL) | 5'-6" | 1.70 M |
| Air draft (vs. datum WL) | 25'-0" | 7.60 M |
| Displacement, light ship | 120,000 -130,000 lbs. | 60 – 65 tons |
| Displacement, full load | 150,000 -160,000 lbs. | 75 – 80 tons |
| Cruise speed | 18-25 kts. | 18-25 kts |
| Top speed | 25-32 kts. | 25-32 kts |
| Fuel capacity | 2,500 USG | 9,463 L |
| Potable water capacity | 600 USG | 2,270 L |
| Black water capacity | 200 USG | 750 L |
| Gray water capacity | 200 USG | 750 L |
| Fresh lube oil capacity | 60 USG | 115 L |