We're particularly proud of our refit capabilities at Front Street Shipyard. When an owner entrusts us with his or her vessel to breathe new life into, we work closely with the owner's team to develop a customized plan. Our technicians map out the boat, identifying areas to be refreshed and designing areas that will be entirely rebuilt. The result is a fully customized, like-new vessel that meets the desires of her owner and crew.
Read more about our refit capabilities.
Below are case studies of refits that stand out for their excellence in craftsmanship and performance.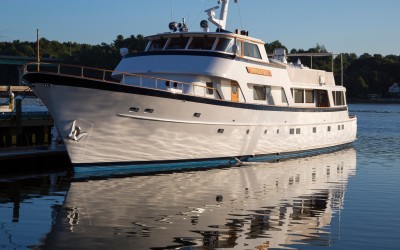 STONEFACE is a 106-foot aluminum yacht built by Burger Boats. Designed by Jack Hargrave, she was first launched in 1978. She came to us at Front Street Shipyard in early 2012 equipped with two 735-HP GM engines in need of replacement as well as extensive corrosion issues that required immediate attention.