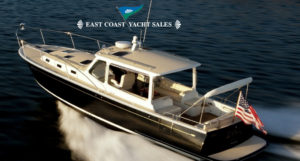 January 5, 2017 — Belfast, ME — East Coast Yacht Sales has announced that they have opened their sixth brokerage office in Front Street Shipyard in Belfast, Maine. With growing market share and a need for water access, this move will bolster East Coast Yacht Sales' mid-coast Maine presence while supporting the diverse client base of Front Street Shipyard.
"Our team and our customers at Front Street Shipyard are all looking forward to welcoming East Coast Yacht Sales to the Belfast waterfront," said JB Turner, president of Front Street Shipyard. "The brokers at East Coast Yacht Sales are knowledgeable boaters who are committed to helping people spend more quality time on the water. That's a commitment we at Front Street Shipyard share with them."
Asked about this new opportunity, John Knowles, owner of East Coast Yacht Sales, said, "We are excited to be connected with another world-class yard that will bring additional value and benefit to our customers. With 25 years of professional collaboration, there is a great deal of mutual trust and respect between JB Turner and me. That will be imperative as we assist each other's customers. East Coast Yacht Sales is pleased by the opportunity to work with Front Street Shipyard in delivering our customer-first approach to yacht sales."
About East Coast Yacht Sales
East Coast Yacht Sales opened in 1986 in Yarmouth, Maine, and is owned by Jon Knowles. Enjoying over 30 years in business, East Coast Yachts Sales has strategically placed offices along the New England coastline. Employing some of the yachting industry's top yacht sales professionals, ECYS represents prestigious brands like MJM, American Tug, J/Boats and Vanquish as well as quality brokerage listings. For more information about East Coast Yacht Sales please visit www.ecys.com.
About Front Street Shipyard
Front Street Shipyard is an international boatbuilding, repair and service facility in Belfast, Maine, which offers dockage, repairs and winter storage for boats up to 200 feet and hauling capacity for vessels up to 485 tons. The yard has deep-water access for a range of power and sailing vessels from small boats to superyachts. With services from engine and systems maintenance to carpentry and advanced composite repair work, Front Street Shipyard is the most-capable full-service facility in the northeastern United States. More information about Front Street Shipyard is online at www.frontstreetshipyard.com.