Front Street Shipyard unveiled a new client lounge and interior design showroom in its facility. TACK studios — Yacht Interior Design of North Yarmouth, Maine, styled a 400-square-foot room overlooking the waterfront in Front Street Shipyard's Building 1. The client lounge now doubles as an interior design showroom featuring color and fabric samples as well as design inspiration for yachts. Front Street Shipyard customers and yacht owners in the region are now invited to visit the lounge and showroom to view the wide range of styling options available to modern vessels.
TACK studios incorporated custom, hand-built furniture from Thos. Moser and artwork by David Estey and John Gable into the Front Street Shipyard showroom and lounge. Visitors relax in a walnut wing sofa or carved wood armchair while perusing the soft good samples that include lines from Ralph Lauren, Loro Piana, Sunbrella, Perennials, and more. All of the furnishings are available for purchase and customization through TACK studios.
"Our collaboration with TACK studios affords our customers both a beautiful alcove for resting or working, plus a new resource for redesigning their boat interiors," said JB Turner, president of Front Street Shipyard. "We're pleased to connect customers with a talented group who can put the finishing touches on the refit work we do here."
The lounge furnishings are on loan from their respective vendors. Many of the fixtures and furniture can be incorporated into both homes and yachts. From time to time the TACK studios' stylists will change out the furniture, art and décor to illustrate additional interior design options. Customers are encouraged to visit seasonally.
"We specialize in bringing out the passions of each client and weaving them with intention into the spirit of their yachts," said Kate Seremeth, owner of TACK studios. We enjoy both new construction and refit projects, as each project and client are truly unique. Collaborating with Front Street Shipyard was a natural fit since we both hold superior quality and customer service in the highest regard."
The Front Street Shipyard customer lounge is open to the public Monday through Friday during regular business hours and by appointment with the TACK studios stylists.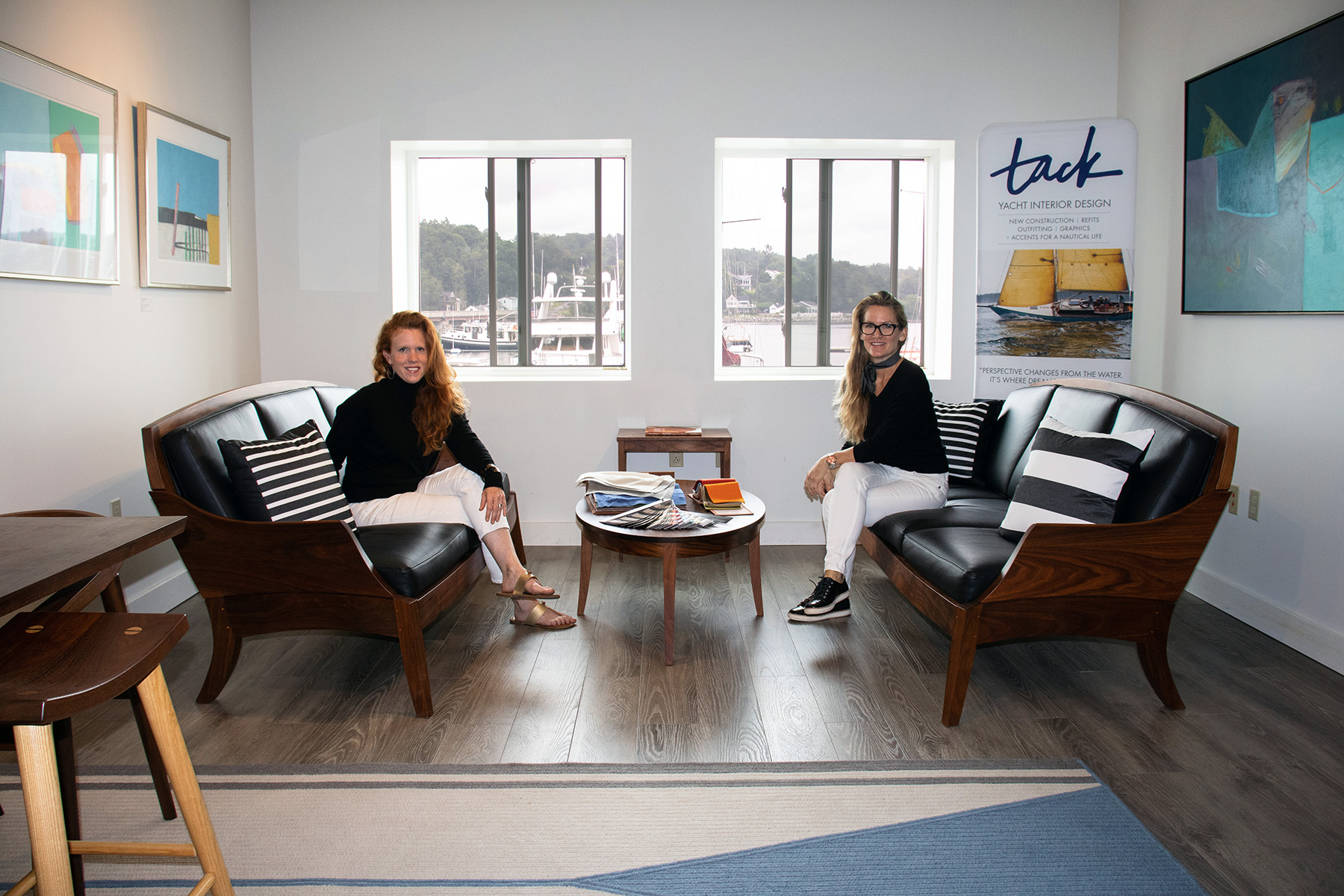 About TACK studios
TACK studios — Yacht Interior Design is a full-service yacht interior design firm specializing in interior and exterior styling, outfitting and yacht branding. TACK studios works on new construction and refit projects for both sail and power yachts. TACK studios works with private clients, brokers, naval architects, shipyards and yacht companies to create custom spaces that evoke passion. Offering materials from top vendors, TACK studios supplies upholstery, full bedding/sheet packages, mattresses, blinds, artwork, hardware, lighting, flooring, exterior colors, and more to create a cohesive final design. With a studio based in Maine, TACK studios' stylists enjoy collaborating on projects both locally and internationally. More information about TACK studios is online at tackstudios.com.