Production
---
 Production Boat Construction
Front Street Shipyard builds composite production boats in a Bucksport, Maine, facility. The team of composite experts builds molds, hulls, decks and parts for other boatbuilders and manufacturers. If you have a line of production boats you're interested in having manufactured by Front Street Shipyard, please contact us.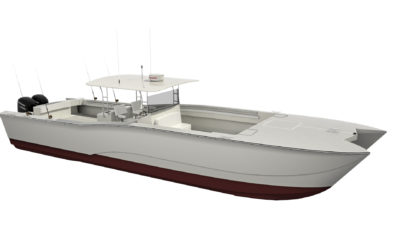 The full Brevilla boat line, which includes a range of sizes that are based on a proprietary new hull form, are available for new construction. The Brevilla hull form provides lift, speed, shock mitigation and exceptional handling. The boats deliver a remarkably nimble, quick-maneuvering ride that is surprisingly smooth even at maximum speeds. The Brevilla 48 will run at speeds in excess of 55 mph with twin 350-hp outboards, operating with a 30-40% increase in fuel efficiency over a comparably sized monohull. The tunnel-mounted outboards are above the boat's maximum draft, providing propeller protection when running in shoal water or when beaching.
read more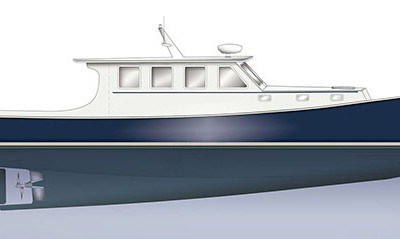 Front Street Shipyard is proud to be supporting SW Boatworks of Lamoine, Maine, by building the mold and hulls for their newest boat line, the Calvin Beal 42. The design is similar to its sister, the 38′ CB, but with more length to accommodate both commercial and sportsfihing/pleasure demands. This design has been approved by Calvin Beal and Capt. Stewart Workman. The Calvin Beals are a very popular and handsome custom design. They are known for their seaworthiness, stability, and fuel efficiency — all proven by fishermen and enjoyed by yachtsmen. SW Boatworks, owner of the Calvin Beals, is an experienced, high-quality custom boat builder that has been constructing custom vessels for over 15 years.
read more